Elevate your website
and your brand
Get a New, Bespoke, High Performing Website
with compelling marketing messages and unlimited design revisions
Here's what your new website
will do for you
You'll need to sell less... your website will convert more visitors for you
You will want your prospects to view your website
You'll be confident to invest in marketing, knowing your site converts
Your landing pages and website will have design congruence
Customers will want to do business with you... you'll be able to charge more
What you get with a
Website Success design
Clear layout and
Navigation
A site that has a clear structure which elements where visitors expect them and a navigation that allows users to move through the site with ease.
Designed For Your
Visitors
Your site will be designed to deliver the information your visitors need to help them reach your conversion goals.
Designed to be
Responsive
Your site will be designed to work across platforms from phones to tablets to desktops...and allowing it to be coded for any platform, eFusion, Wordpress, Shopify, Magento, etc.
Designed to
Convert
A site designed to convert ... whether you want visitors to pick up the phone, book an event or a meeting, fill a form or buy your products.
Full Property
Rights
You'll have full 'Intellectual Property Rights' on the designs that we create for you...for you to use in any format you choose in the future.
Packaged Design
Files
Once approved your designs are packaged ready for the developer of your choice to start coding. All design assets including fonts and images will be included.
Unique Bespoke
Design
Your bespoke design will be unique to you and your brand's personality. It will be aligned to your visitors and the journey you'd like them to take with you. We never use cumbersome templates.
Unlimited Design
Revisions
You'll get 'unlimited design revisions' until the site is approved for coding (As long as revisions are in-line with the original brief).
World-class
design team
A site designed by our world-class designers, trusted by hundreds of businesses and using the very best design software and the latest conversion techniques.
And the happy clients who trust us with their brand
Frequently Asked Questions
Where Are You Based?
We're based in Beautiful Chichester on the South Coast of England but our clients are based all over the UK with a few international clients too.
Will you give me the Intellectual Property Rights on the designs?
Yes, we automatically sign the Intellectual Property rights over to you when paid in full (together with any assets that may have required licencing).
Do you offer design refunds?
Yes we do. It's our absolute last resort, however in the very unlikely event that you are truly not happy with our designs and they're not going to work for your customers, and we have done everything within our power to deliver our best designs to you, using multiple designers and unlimited design revisions, then YES we will give you a refund that we both agree is fair. Our reputation means the world to us, and we want you to be satisfied that we have done our best.
What if I don't like my new website design?
Our only goal is to give you a design that you (and even more importantly, your prospective customers) will love. If you like what you see on our portfolio, there is a high chance that you love what we design for you.
Our aim with each site we design is to create a website that we'd be proud to have in our portfolio, but design is subjective, so if you don't love the design we create for you, we will revise the design until you do love it.
Can I pay you at the end of the project instead of at the start?
We charge upfront for the design phase that needs to be paid in full to get us started.
Once the designs are approved for coding, if you choose us for the coding phase, we charge upfront of the coding phase.
If you're choosing a proprietary CMS platform the licence fees for this will only be charged at 'go-live' along with any marketing services you may choose.
Can I use my own coders?
Yes, absolutely. You can use your coders instead of ours to turn the designs into a live functional website.
Once you approve the designs, we package the final editable design files (PSD & AI files) with fonts and instructions for the developers of your choice to start coding.
Most importantly, we'll happily liaise with them if they need anything during their build.
Can we speak directly with your designers?
Absolutely! All our designers are employed "in-house" so you can call and speak to them directly...or better still, we can organise a screen share to better capture your thoughts.
Do you design the mobile views?
We'll design the mobile template "view port" and the home page to show the developers what we intend to happen with the header, navigation and footer.
We don't need to design the mobile view of every single page, especially if our developers code the site, since they know how to code properly with responsive coding to suit all screen sizes.
When we design the desktop view, we always take into consideration how it will look on a mobile device and design scalable elements accordingly.

If we're doing the coding, our developers will take into account site speed and the order the elements are displayed to maximise conversion.
If you want us to provide the mobile designs for every page, that's totally fine but it may cost a little more.

Can you deliver the design in less than four weeks?
Yes, we can deliver a design, ready for coding, for you in less than four weeks, subject to:
An expedited rate to allow us to make the required resources available
and you'll need to be prepared to work closely with us and respond quickly to any required feedback
Do you really offer unlimited design revisions?
Yes, we offer unlimited design revisions on everything we design for you, until you approve the designs for coding (as long as the revisions are inline with the original brief).
How long does it take to design the website?
The design process varies from website to website and client requirement to client requirement.
We aim to deliver the home page design within 10-14 days and (subject to the required alterations)...
The completed design within three to four weeks of the proposal being signed off
We appreciate that sometimes speed is of the essence...if you're happy to work closely with us to get a rapid result, we can offer an expedited design rate.
What if I don't have my copywriting or photos ready yet?
Don't panic, as long as we've got the answers from your design questionnaire and our initial discussions, we can design the homepage and put together the site structure.
We'll put together the internal pages and navigation based on our experience of what works best with your target audience using place holder text until your copy is ready. We often find that once we've built the structure you'll get a lot more clarity about what you do/don't want to say on your website.
We provide professional copywriting and photography services (subject to location) should you require them.
We'll let you know when we need your images and copy. This is usually after the design has been signed off, before it goes into the build phase and is coded. For a quotation on these services please contact us through the button below.

Our job is to deliver your Website Success, the team will be here to guide you at every point.
How much is copywriting?
We offer a professional copywriting service to ensure that your message is conveyed in the right tone for your chosen audience with the correct language for your brand. Whether its copy for the website, articles or blogs we can help.
As a guide 'marketing copywriting' for an average web page (300-450 words) would be £80-£100
Blog post copywriting is £75/post (400-600 words)
What is the process after I order a new website design?
Once your proposal has been signed off we start by sending you our design questionnaire where we need your input.
From the results we can understand fully what's required to design a stunning, effective and unique custom website design that's tailored to your business to get you the best results possible.
This doesn't mean using the same standard layout every time, but thinking through your visitor's objectives and their needs.

A website must appeal to your visitors and should be unique to your business so it's memorable.
We design with a colour palette, images and brand graphic elements that appeal to your target market, design to enhance your message to make it easy to entice your visitors to keep reading, build trust and convert these leads into sales.

We give you unlimited design revisions until you approve for coding. Once you approve the home page design, we will then start designing the internal page designs.

When you approve the designs, we either package the final editable design files (PSD & AI files) with fonts and instructions for the developers of your choice ...or start coding if we're building your site too.
It's our goal to give you a design that you will absolutely love and will be proud to show off and market. We have a passionate design team who will see you through the whole process to ensure that your website design will meet both your and our high standards.
How much do you charge for a custom website design?
Each website design and project, like every business, is different. Our pricing is tailored to the needs of your business.

For an average 'brochure' website with 5-8 custom pages the investment will be between £1600 and £2000
If you need either eCommerce or other advanced functionality you should allow for an investment of £2000-£2500

A Website Success website design includes creating compelling customer messages and 'calls to action'
How much does a bespoke website design cost?
An average website that has a homepage design together with 4-7 custom page designs our quote is £1,500-£2,300 for the design phase, depending on the length of the pages.
If you're looking to get an eCommerce or membership site designed then allow an additional £1000 for the additional styling requirements.
If you need a new logo, branding and a style guide for a totally new look and feel, then add £600-£1,000, depending on how many brand elements you need designed.
How do you design a website to get great results?
We use our tried and tested method to design the perfect website for you. We ask you to complete a questionnaire, which gives us an overview of your business and what your likes and dislikes are. Using our marketing experience we design your website to reflect your brand and business, but also to include the essential elements to convert visitors to your site to actual customers.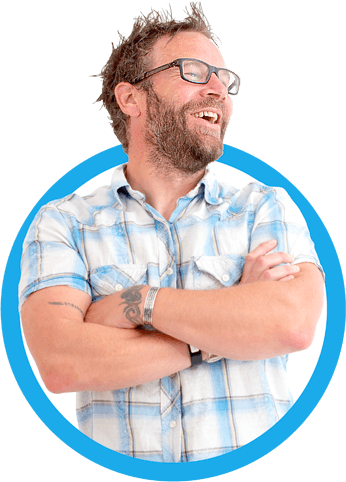 Dan Mack - Creative Director
Start your journey to website success
---
Our goal is to make a visual impact and to engage your prospects with your brand. We'll get that right and build you a tribe of raving fans.
Get started

on the design process